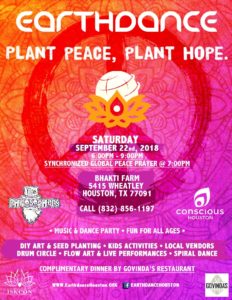 "Give Peace a Dance!" and have a great time. How? Come to Earthdance!
Join us Saturday, September 22nd for Earthdance 2018, the most joyful synchronized global
dance for peace on the planet, a special day when conscious people in 600 locations in 50
countries come together to radiate harmony through music and dance in a culture of peace.Houston's ecstatic Earthdance festivities takes place from 6-9pm at the beautiful 8 acre wooded Urban Farm @ 5415 Wheatley (Ella becomes Wheatley) about 2 miles from Hare Krishna Temple & Cultural Center, just outside the Heights.
Feel free to try henna body art, face painting, DIY art for kids and adults, seed planting, try on a
sari, flow art, bhakti yoga, holistic vendors and more. The main program features the
Synchronized Global Prayer for Peace and Spiral Dance plus drum circle. Performances by Lee
Alexander, named best male vocalist by Houston Press in 2010, the band "The Philosophers",
kirtan/mantra music by Conscious Houston and a complimentary vegan dinner catered by
Govinda's. Suggested donation: $ 10.
Earthdance is co-produced by Earthdance International & the International Society for Krishna
Consciousness (ISKCON) of Houston. It coincides with ISKCON's annual World Holy Name
Week, which aims to flood the world with spiritual sound (mantra) to achieve real unity.
According to Robert Ruzicka, director of the organic Urban Farm, which shelters three ahimsa
cows, this year's theme is "Plant Peace, Plant Hope." "Earthdance is more than just an epic
global party," he says, "it is a proactive celebration to help heal our planet, to plant seeds of
peace and hope at a time when we desperately need to come together on the soul level."
Join hundreds of blissful Houstonians and thousands of kindred souls worldwide and experience
the magic of Earthdance 2018! Vendors are welcome to showcase their services. For more
information : 832 856 1197.